Fly killers for commercial use in Dubai ( UAE )
Fly-Add is the leading supplier in the Emirates of fly killers to industrial, commercial & private use. We are always available to give you any kind of advice, because it´s in our interest, that your choice, is the right choice.. Fly-Add has all insect killers in stock, and delivers from day to day. All our units are sold with warranty. All our flykillers are designed to last for many years as a one-time-investment.
More than a billion flies can´t be wrong !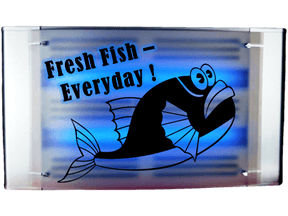 Add your product - NOT your problem !!!
No more visible dead insects in front of clients !
Click on the image to see the brand new UV Flykiller - Fly-Add, is a new discreet insectkiller we present to our clients in Dubai & Abu Dhabi, where you can hide your flykiller behind a message or an add to your clients. This flykiller is unique and discreet. Right choice for hotels & restaurants. See more on youtube
Shopping Cart

Attention ! Clients of Flykillers in the Emirates.
Please remember to order extra UV-lighttubes & glueboards, when you place your order of flykillers. Tubes must be changed one time per year. Glueboards min. 4 times. Shipping costs of spareparts to flykillers in Dubai, Abu Dhabi will be added.
Insect killers - we recommend